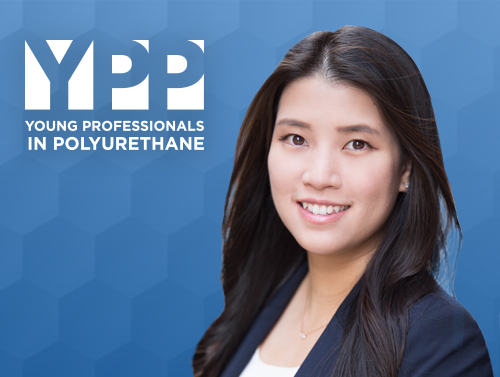 A Young Marketing Manager Goes Online to Find and Support Customers
Name: Erica Lee
Age: 32
Title: Sales Channel and Digitalization Manager
Company: Evonik Corporation
Educational Background:
B.A. Political Science, National Chengchi University
M.B.A. Management, Purdue University
Informing consumers about the value of polyurethane is a complex task. From the cars we drive to our mattresses to the carpet underlay under our feet, polyurethane touches our everyday lives in many ways. But, how do you get the word out in an increasingly digital world — made even more remote now amid a global pandemic? That's the problematic task polyurethane marketing experts face today.
Young Marketers Go Online
For marketers like Erica Lee, a sales channel and digitalization manager, the answer is to go digital. Erica works at Evonik, one of the world's leading suppliers of essential additives used in the manufacturing of various polyurethane foam types. At 32 years old, she is among a group of young polyurethane professionals who see the possibilities of going beyond event-based or in-person marketing.
Discovering the Field of Polyurethane
Erica's road to polyurethane was a winding one. Born in Texas but raised in Taipei City, Taiwan, Erica's childhood abroad helped shape a career in international business by making her both multi-lingual and what she calls a "risk-taker."
She doesn't have the typical science background one might expect of someone working in polyurethane. Instead, she holds a BA in political science from National Chengchi University in Taiwan. After completing her undergraduate degree, she worked for a consumer electronics provider before pursuing an MBA from Perdue University in Indiana.
"7 years ago, I first learned about polyurethane when I was conducting market research for a company that focuses on selling gases and chemicals for industrial uses. That work opened my eyes to polyurethane's use as a durable material," Erica says. "However, it wasn't until a few years later when I joined the polyurethane business line, working alongside my brilliant Ph.D. colleagues, that I truly learned about polyurethane's versatility and use in many household goods and industrial applications."
Marketing Trends in Polyurethane
It may be safe to say that over the years, marketing in general has been moving increasingly online, not just as a way of reaching new customers but as a way of supporting existing customer relations. However, throughout 2020, the pandemic has accelerated those online marketing efforts.
Erica's willingness to take risks, try new things and be able to make connections globally has helped guide her marketing strategy through the twists and turns of working through a global pandemic.
Today, her team is not just utilizing online capabilities to reach new customers and educate them on the various uses of polyurethane. They're helping develop and implement online strategies to drive better engagement between existing customers and the company.
"Even before the pandemic, we utilized a customer portal website: ExplorePU to support our customers with technical data sheets, safety data sheetstrainings, formulation calculators and educational materials," she says. "Now, with fewer face-to-face events and reduced travel, we're trying to recreate some of that personal interaction online."
A New Site Helps to Reach and Educate
Among those new projects in 2020, Erica's team launched an interactive House of Polyurethane to reach customers. Visitors to the site can request product samples; download and print product information; and submit questions to or open discussions with technical teams.
"I'm proud of what we've built," Erica says, "and I hope it gives customers a unique way to engage with usand help them find the right additive solution."
Finding Satisfaction in Fostering Connections
Whether it is in the polyurethane space or an entirely different field, marketing is about helping foster connections between companies, groups of people and individuals. For Erica, bringing people together and sharing her expertise are the most rewarding parts of her job.
"I love to be able to assist people. It makes me happy to hear from our customers (or even colleagues) that we have helped them to solve a problem or make better products," Erica says. "This motivates me to find new ways to add value to our customers digitally."
Eyeing a Post-Pandemic World
When it comes to the future, Erica says her feet are now firmly planted in the chemical industry and that she is patient about developments of what may lie ahead.
"There is a bigger world out there full of possibilities. Be open to new experiences because you truly have no idea where life will take you.," she says. " Someone wise once told me, don't limit yourself because you are not an expert. Every expert was once a beginner."
Related Articles