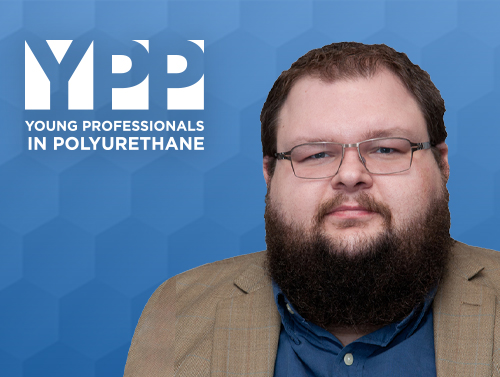 A Young Senior Scientist Shares How Mentorship Influenced His Chemistry Career Path
Name: Brandon Parks
Age: 34
Title: Senior Scientist
Company: Covestro
Educational Background:
BS Chemistry – Lebanon Valley College
BS Biochemistry and Molecular Biology – Lebanon Valley College
MS Organic Chemistry – University of Pittsburgh
From an early age, Brandon Parks knew science was in his future. Although he was unaware of where his love of science would take him, he had several fantastic teachers and mentors who supported his ambition and put him on the path to success.
Brandon found an interest in polyurethanes the moment he began his career at a specialty chemical company as an R&D chemist. Being surrounded by several industry veterans and professionals gave him the opportunity to learn just how versatile polyurethanes can be.
"I think the most impressive aspect of polyurethane is the diversity of applications that rely on urethane chemistry," he says. "You can create anything from a rigid or flexible foam to an industrial coating or 3D printing filament — all relying on the same principle."
As polyurethane continues to grow in popularity, Brandon sees numerous opportunities for it to impact large-scale, real-world problems as they arise. He cites the polyurethane applications being used in electric vehicles, batteries, and sources of renewable energy as a few of the places where polyurethane — and young scientists like himself — can continue to make a difference.
Now at age 34, Brandon's dedication to science, along with the support of his colleagues, has led him to his senior scientist role at Covestro.
The Benefits of Mentorship
For students who have an interest in following a science career path, or more specifically a polyurethane path, Brandon emphasizes the importance of finding a mentor and taking advantage of opportunities that allow you to learn and grow.
"The most impactful opportunity I had early in my career was the ability to work on various undergraduate research projects during the summer and throughout the school year," he says.
Those opportunities gave Brandon the chance to think about how he could approach his own research projects, what questions to ask, and which areas of science appealed to him as he thought about his future career.
Though taking advantage of hands-on experiences are crucial, Brandon also emphasizes how important it is to listen and learn all you can from the experienced professionals working around you.
"Don't be afraid to ask questions, be curious, and put in the effort to learn," he says. "Look at every conversation and interaction as an opportunity for mentorship. Whether it's with someone working in the same area or from another part of the company, always make the most of the opportunity."
The more conversations you engage in, the more you find yourself gaining valuable advice — that can change your way of thinking for the better.
In Brandon's case, a piece of advice he took with him as he moved forward in his career was centered around respect.
"Respect is earned, not given," he says. "Regardless of your level of education, title, or background, it's important to build relationships and be a team player. There is always something to learn from others or become better at."
What His Career Looks like Today
As a senior scientist, Brandon balances his time between coordinating lab projects, developing solutions for market needs, and working with customers during plant trials to evaluate new chemistries on an industrial scale.
These plant trials consist of a team of experts applying polyurethane in a manufacturing setting. Brandon focuses on the chemistry while other team members look at the equipment and processes to make sure that manufacturing will be effective and efficient.
"I often collaborate with groups in our other business units as well in an effort to create innovative, new solutions for our customers."
What's Next?
As Brandon continues to grow within his current role, he sees his future looking slightly different. "I enjoy working on technical issues and would like to potentially move into a technical management role or work towards becoming a research fellow at some point in the future." Typically, a technical management role involves more "behind the scenes" leadership of teams as opposed to more hands-on science.
Related Articles