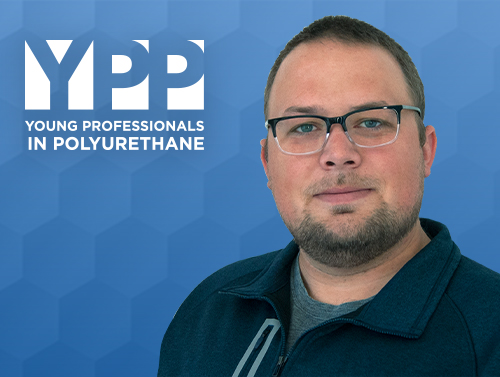 A Young Technical Specialist Works and Studies for a Bright Future
Name: Joshua Compeau
Age: 30
Title: Technical Specialist
Company: BASF
Educational Background: 
B.S. Biology, Northern Michigan University
M.B.A. Management, Baylor University (Currently Enrolled)
At age 30, Joshua Compeau is busy, working full time, while also pursuing a master's degree to help him excel on his current path as a technical specialist at BASF. He's been with the company since his days as an undergraduate intern, working in rigid urethanes — polyurethanes that take on a rigid form and are often used for insulation for buildings and appliances.
"I start my day by checking materials and making sure that our customers are getting their orders from us on time," Joshua says of his role. "Other than customer relations, I spend much of my time working on development projects to help design new products or find innovations for new market applications. Those may take the form of finding better solutions for insulating commercial buildings or finding ways of making refrigerators maintain cool temperatures more efficiently."
Discovering a Love for STEM
As an undergrad, Joshua attended Northern Michigan University with aspirations for a career in medicine; however, some particularly squeamish real-world experiences taught him early that a future in healthcare was not in the cards.
"The pre-med program at the university allows students to work in the hospital's operating room," Joshua says. "Back when I was a student, I quickly realized after seeing just a few operations that medicine was not the path for me."
Although short-lived, his foray into biology was not in vain. There were aspects of being a pre-med student that Joshua enjoyed — particularly spending time in the lab where he was able to create, design and make his own discoveries.
"As I began focusing on the lab portion of my studies, I found it started to fuel my love for the sciences," he says. "Growing up, I was not aware of the job opportunities in the field of chemistry. College — but especially working in a lab — opened my eyes to the seemingly endless number of career possibilities in the STEM fields. There are so many breakthroughs just waiting to be made that contribute to the betterment of humanity and work in STEM is driving those discoveries."
Finding a Career in Polyurethane
Not long after his experiences as a pre-med student, Joshua switched gears, changing his major to chemistry where he excelled. In his senior year at Northern Michigan, he applied for and was accepted to an internship with BASF in the company's polymer sciences division.
"BASF put me on a great team," Joshua says. "The work fueled my drive and made me appreciate all the different aspects of polyurethane and how it touches so much of our everyday lives. The most exciting part of it for me continues to be helping to design and build products that shape people's lives."
Working Toward His M.B.A.
Although a full-time employee, Joshua is also enrolled in business school at Baylor University, working toward his M.B.A. in management.
"People think of an M.B.A. as being a golden ticket to a company's c-suite. Sure, I am learning leadership skills that will hopefully prepare me for a management position, but it's not just that," he says. "In my role at BASF, I do a lot of large-scale analyses. Getting my master's in business is teaching me how to analyze large amounts of information and draw smart conclusions from that data to make better informed decisions for my clients."
One Eye Toward the Future
While working toward a graduate degree that will give him a future with even more possibility, Joshua says that he is happy with his career trajectory thus far and looks forward to what the next few years may hold.
Even as the world grapples with issues of climate change and the need for better energy conservation, he sees the role of polyurethane as being key to helping to bring about positive change that makes a lasting impact.
"For the most part, I feel very fortunate," Joshua says. "As the role of polyurethane becomes even more ubiquitous in daily life, I think the future is looking bright. Polyurethane is helping to address so many of the challenges we face. The industry is rising to meet those challenges, and it is gratifying to be a part of that."
In his own work in rigid polyurethanes, Joshua is helping to create insulation that supports energy efficient structures. For example, high performance polyurethane rigid foam insulation is used in commercial roofing and wall panels. These applications result in the use of less electricity to heat and cool their structures. This kind of energy savings multiplied across every household and commercial building in the U.S. means a massive energy savings and a reduction in our overall carbon footprint. Joshua's work is just one of the ways that the polyurethane industry is helping to reduce carbon emissions and help stem climate change.
Related Articles