Category:
Athletics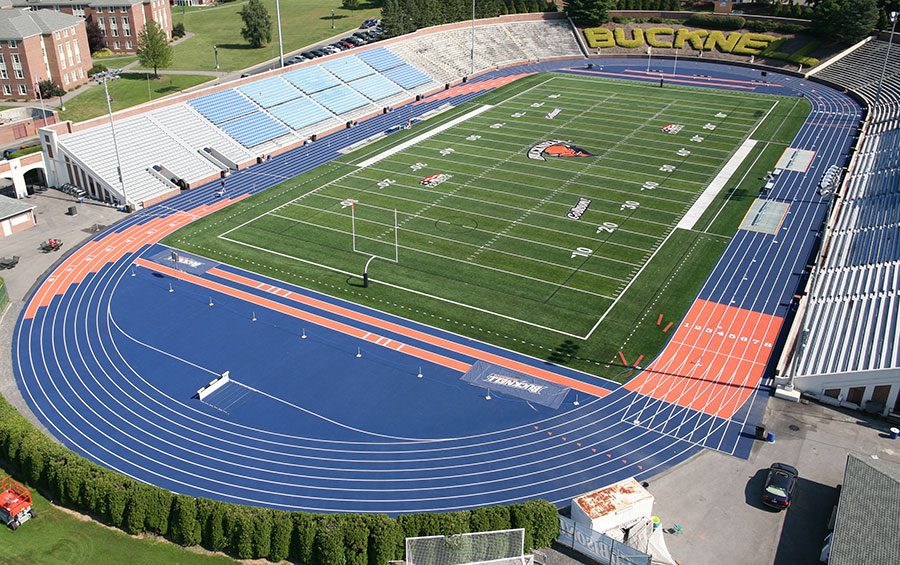 Balancing High Performance and Daily Training
Balancing High Performance and Daily Training
Polyurethane allows track surfaces to meet the specific needs of any facility
Next time you hit the track, look down and thank polyurethane for the comfortable run. Not only is polyurethane used as cushioning and adhesives in running shoes, it makes up nearly 70% of the track market. For competition a hard track is traditionally thought to be ideal for speed, but for facilities used for training on a daily basis, a more forgiving surface is often preferred. Polyurethane is a great solution as the chemistry can be adjusted to achieve the desired consistency that meets the specific needs of a facility. Beynon Sports offers a series of these systems (as pictured here), known as the BSS Track Surfacing Systems.
Polyurethane can alsobe produced in bright, & UV stable colors allowing for the customization of colors as well as texture. Even if the main element in tracks is not polyurethane, it is commonly used as a binder for rubber and other track materials.
Beynon Sports has completed over 15,000 installations from elite-level facilities to universities to high schools and community centers.
Tiger-ready track
Faced with the challenge of transforming the Billy J. Murphy Complex into a World Class track and field arena, University of Memphis officials turned to Beynon Sports to redesign and construct a track and field facility capable of hosting NCAA Division I Track and Field competitions.
For this project, the University of Memphis opted for Beynon Sports' IAAF Certified BSS 1000 full pour track and field surfacing system. The BSS 1000 is durable and can be formulated to have a specific/desired feel. It mixes very fine SBR rubber granules with polyurethane to create an effective shock absorbing cushion. The complex now features a 10,000 square yard nine-lane track, two 30′ hammer discus cages, four pole vault runways and two long jump pits.
"From the moment our athletes stepped on their new track, you could see their excitement," said John Flowers, Coordinator for Athletic construction projects at the University of Memphis.
Next generation track for a next generation team
Santa Margarita Catholic High School in Ranch Santa Margarita, CA, had an aging latex track that was becoming costly to maintain and was impacting the students' athletic performance. The school looked to Beynon Sports to redesign and construct a facility capable of providing a competitive advantage while delivering a safe venue for daily training. Using the BSS 1000 Embedded 14mm product, Beynon built a seven lane track that includes two long jump pits, a high jump area, and a pole vault runway.
"The new track surface is amazing, to put it mildly. The kids feel revitalized as does the program as a whole. The level of injury has dropped drastically with the new surface and times continue to improve," said Sean Zeitler, head Track and Field coach at Santa Margarita.
Related Articles