Category:
Architecture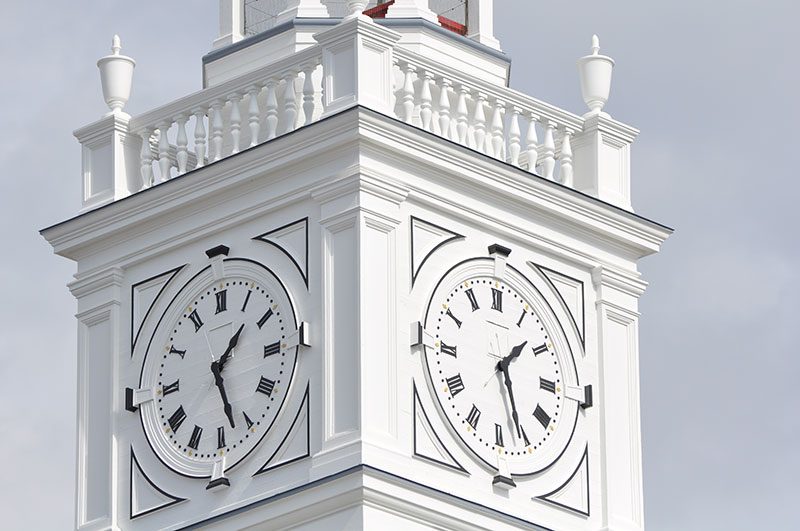 Balancing the Old and New
Polyurethane trim is used in historic renovations to ensure classic details are seen for years to come.
When undertaking a renovation, whether of a historic building or a suburban home, homeowners and architects appreciate low maintenance products that look authentic and high end. For example, polyurethane represents a durable, water- and insect-resistant option for traditional wood trim.
Polyurethane trims can be designed to look smooth or to replicate a wood grain and can be finished in a number of vibrant colors, as well as faux finishes.
Fypon provides a wide array of options for builders looking for an alternative to traditional wood trim. Fypon products have been used in a number of historical renovations, allowing architects to effectively recreate detailed trim work.
Making Sure the Clock Keeps Ticking
The 40-foot clock tower atop the Jackson County Truman Courthouse in Kansas City, Missouri, was in need of a major restoration. In addition to the actual working parts of the clock, the wood trim surrounding it needed to be replaced. The new trim needed to be an exact match for the existing balustrades and finials that were designed in 1933 (a design that was overseen by then Judge Harry S. Truman). Polyurethane was chosen as the material for this restoration because it could stand up to ongoing exposure to the elements. The polyurethane pieces, produced by Fypon, met the exacting standards of durability and historical accuracy.
Breathing New Life into an Old Building
Some vacant, older buildings in cities across the U.S. fall into disrepair due to the high cost of keeping up the aging structure. Such was the case of a classic Italianate loft building in downtown Chicago. An architecture firm purchased the building and planned to restore its original look while adding the functionality for today's business needs.
The building originally featured an intricate cornice that topped the building. Polyurethane trim was chosen as the material to recreate this historically-critical decorative element.
The cornice could have been designed with cast products, but the weight would have required additional work to brace them to the building as well as additional machinery to lift them to the roofline. The light weight of polyurethane combined with its durability made it a cost-effective option for the cornice. With the finished cornice painted black, the intricate details are very visible even from street level 75 feet below.
Related Articles