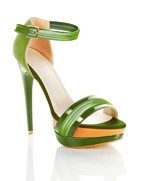 image source: https://www.environmentalleader.com/2015/05/05/bayer-launches-bio-based-polyurethanes-for-textile-coating/
Bayer MaterialScience has brought a new array of waterborne, bio-based polyurethane dispersions to apparel and footwear lines under the IMPRANIL® eco name. Thanks to the production of this technology by Bayer, it is now possible for manufactures to produce sustainable, coated apparel such as synthetic leather, with minimal fossil-based raw materials.  Ultimately, Bayer notes that these bio-based polyurethane dispersions will contain up to 65 percent of renewable elements contributing to the reduction of carbon dioxide emissions.
IMPRANIL® eco has given synthetic materials a face lift, attracting more consumers to the brands that have adopted a more sustainable material. ...
Category:
Apparel