Category:
2018 Polyurethane Technical Conference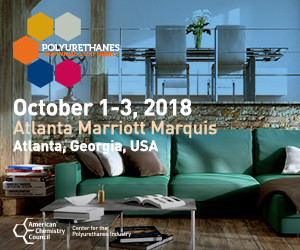 CPI Announces finalists for 2018 polyurethane innovation award
Demilec (USA) Inc., ICL-IP America, Inc. and SWD Urethane will present at CPI's annual conference
For Immediate Release:
Contact: Brian Grossman (202) 249-6509                                                                 
Email: Brian_Grossman@americanchemistry.com
WASHINGTON, DC (September 5, 2018) – The Center for the Polyurethanes Industry (CPI) today announced Demilec (USA) Inc., ICL-IP America, Inc. and SWD Urethane as the three finalists for this year's Polyurethane Innovation Award. Respected throughout the industry, the renowned award will be presented during the Polyurethanes Technical Conference in October in Atlanta. It recognizes the most inventive commercial technologies in the polyurethanes industry over the last 12 months.
"The Polyurethane Innovation Award provides opportunity to recognize visionary and ground-breaking achievements within our industry and honor the companies that demonstrate those accomplishments," said Lee Salamone, CPI senior director. "It's about our commitment to developing and advancing technologies that enhance the quality of life through sustainable and responsible practices. CPI congratulates Demilec (USA) Inc., ICL-IP America, Inc. and SWD Urethane on their innovations, and we look forward to their presentations during the Polyurethanes Technical Conference's Opening Session."
The 2018 finalists described their innovations as follows:
Demilec (USA) Inc.'s Heatlok® HFO: Heatlok HFO® delivers a zero ODP, ultra-low GWP and high renewable/recyclable closed-cell foam for the insulation industry. Heatlok HFO® High Lift, with its R-7.5/inch, provides breakthrough alternatives for the residential builder. Heatlok HFO® Pro, at R-7.4/inch, creates an air, vapor, water and thermal barrier at 1 inch, ideal for commercial buildings.
ICL-IP America, Inc.'s VeriQuel™ R100: VeriQuel™ R100, a phosphorus-based, reactive flame retardant uniquely addresses the building and construction market's desire for chemistries that provide fire safety and eliminate exposures during product use. VeriQuel™ R100 leaves no foot print and alleviates concerns about exposure to people and potential harm to the environment.
SWD Urethanes' Quik-Shield® 108YM: Quik-Shield® 108YM, the "Yield Monster," is an ultra-low-density open-cell spray polyurethane foam (SPF) insulation product. It is the first 0.36 pcf density spray foam, and it provides up to 39 percent more yield.
Representatives from Demilec (USA) Inc., ICL-IP America, Inc. and SWD Urethane will present their innovations during the Opening Session of the Polyurethanes Technical Conference, which will be at the Atlanta Marriott Marquis from Oct. 1-3, 2018. Each conference attendee will have the opportunity to vote in favor of one finalist. The winner will be announced at the conference's Closing Session.
In addition to the Innovation award, the annual conference, the longest-running polyurethanes conference in North America, will feature more than 70 technical presentations by industry experts and government officials, as well CPI's Polyurethane Professional Development Program and a Table Top Exhibition.
For more information on the conference, visit the conference website. Get the latest updates and conference news on Twitter by following @accpolyurethane and using the hashtag #PolyCon18 to join the conversation. You can also share information about the conference with your network on LinkedIn.
# # #
The American Chemistry Council (ACC) represents the leading companies engaged in the business of chemistry. ACC members apply the science of chemistry to make innovative products and services that make people's lives better, healthier and safer. ACC is committed to improved environmental, health and safety performance through Responsible Care®; common sense advocacy designed to address major public policy issues; and health and environmental research and product testing. The business of chemistry is a $768 billion enterprise and a key element of the nation's economy. It is among the largest exporters in the nation, accounting for fourteen percent of all U.S. goods exports. Chemistry companies are among the largest investors in research and development. Safety and security have always been primary concerns of ACC members, and they have intensified their efforts, working closely with government agencies to improve security and to defend against any threat to the nation's critical infrastructure
Related Articles