Category:
Appliances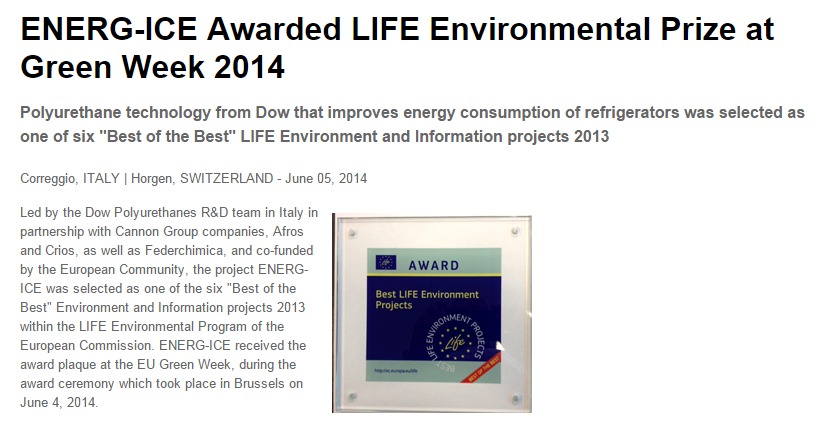 Designing for Efficiency
Energy efficient appliances have helped the United States avoid emissions of 2.1 billion tons of carbon dioxide, which is equivalent to the annual greenhouse emissions from more than 400 million automobiles. Since 2009, the Obama Administration has issued 24 new or updated appliance standards across more than 30 products, which could save consumers a total of nearly $450 billion dollars off their utility bills between now and 2030.
Polyurethane has long played a role in insulating refrigerators (and other appliances) so that air does not escape, thus reducing the amount of stress on the machine to keep a constant temperature. Now, the power of polyurethane is being used in the design phase of appliances.
Dow Polyurethanes Research & Development team led the development of PASCALTM polyurethane foaming technology for manufacturing the insulation filling of cold appliances, such as refrigerators and freezers, using cyclopentane as a blowing agent. Because this innovation will be implemented during the design stage of appliances, it has the best opportunity to impact resource efficiency and sustainability for the entire lifetime of a product. The technology offers up to 10 percent in energy savings compared to the best-in-class appliances available today with a more sustainable process, offering a 10 percent carbon footprint reduction as certified by the Life Cycle Assessment (LCA) methodology. In the manufacturing process, the technology improves product line productivity by decreasing fill time by about 20-30 seconds over traditional processes.
Used in a project known as ENERG-ICE, the solution was named one of the six "Best of the Best" Environment and Information projects of 2013 within the LIFE Environmental Program of the European Commission for reducing the environmental impact of energy-using products, such as cold appliances.
While led by the Dow Polyurethanes Research & Development team in Italy, the project was in partnership with Cannon Group companies, Afros and Crios, as well as Federchimica. The project was co-funded by the European Community.
Related Articles