Category:
Athletics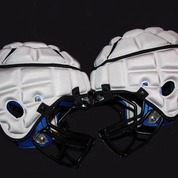 Softening the Blow
Polyurethane helmet caps help protect athletes
With football season about to kick off, the safety of the players is a key concern. Like the vast majority of competitive sports, football does have risks – notably that of concussion.
The United States Center for Disease Control and Prevention estimates that as many as 3.8 million sport-related concussions occur in the U.S. each year. Retired NFL players in their 50s are five times more likely to suffer from dementia-related symptoms than others in their age range.
When two athletes collide, the potential for harm is great. The impact of two hard helmets crashing into one another can lead to a concussion, as sudden force jars a player's brain.  Over time, the cumulative effects of such damage can be devastating – and it's estimated that typically, a football player will sustain more than 1000 hits to the head every single season.
Thankfully, polyurethane is helping to minimize these statistics, by reducing the impact of blows sustained by players using a new polyurethane helmet cap.
Polyurethane fiber caps can be placed on top of regular helmets, to add a layer of padding to the outside surfaces. When players wearing polyurethane fiber caps hit each other, the force is spread across two soft surfaces, instead of two hard surfaces. When a helmet coated in polyurethane collides with another helmet, the force is dissipated across the entire surface and less harmful than if concentrated on a small portion of a hard helmet. The addition of polyurethane to protective headgear has been proven to reduce the impact of blows by up to 33%. As the cap is not permanently attached to the helmet, it can move independently – this, too, can reduce the impact of rotational forces, which can place strain on the neck.
A well-known polyurethane helmet cap – the Guardian Cap – is developed by the Hanson Group.
To date, more than 23,000 athletes have taken up the use of Guardian Caps: in Division One college programs, high schools, and local youth sports.
Polyurethane headgear isn't limited to a sporting context, either. For example, it played a role in the rescue of a German miner, Johann Westhauser. Just last month, Westhauser was trapped in one of the country's deepest caves for 11 days. His helmet ensured that his head was kept stable as he was rescued, protecting him from the head injuries and shock he sustained during his fall.
Related Articles