Category: Automotive, Innovation Bonds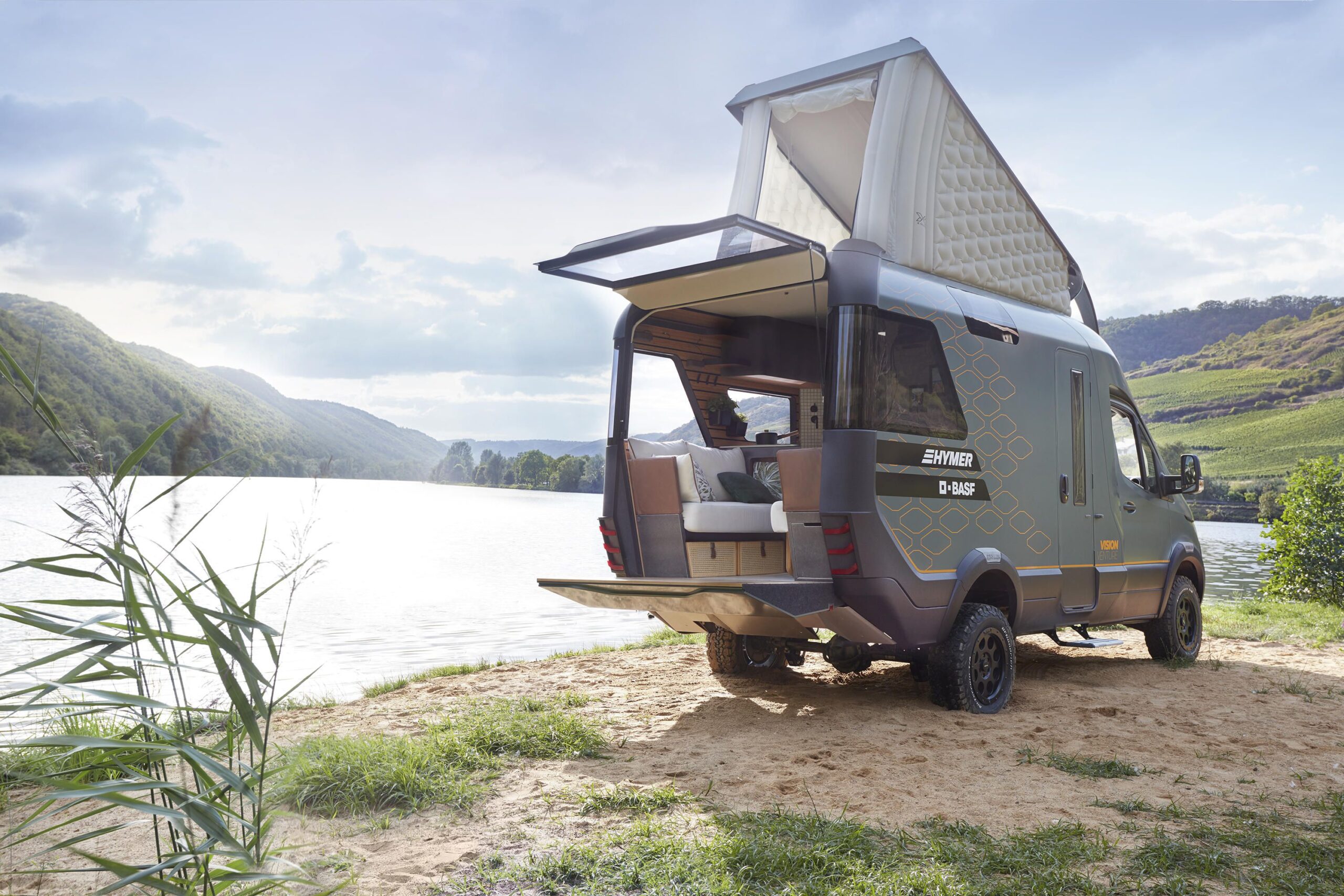 Polyurethane hits the road in a concept camper
It may just be the perfect time for a concept camper that showcases dozens of innovative technologies — many of them made possible with polyurethane. After all, 2020 has been "The Year of the Road Trip." While air travel and large hotel chains have suffered during the pandemic, recreational vehicles and camp sites have seen a resurgence in popularity. Interest in outdoor adventures has peaked at a time when families are desperate for time away from home but also cognizant of the need for social distancing.
The VisionVenture concept camper includes improvements that feature a number of high-performance materials in everything from its electronic components to its self-inflating, pop-open roof. But it's the wide range of polyurethanes used in the vehicle that help make this van less about roughing it and more about experiencing a kind of home away from home.
Better aesthetics, lighter weight
The camper incorporates several "first of its kind" design features. A compact, non-foamed polyurethane coated with a thin layer of real slate makes it possible for the first time to use natural stone in the interior design without adding unwanted weight. It also only adds a mere 1 millimeter to the surface volume, saving space while adding style.
A similar polyurethane foam uses the structure of hemp fibers to make cupboard doors and kitchen cabinets that provide the look of natural materials. However, the polyurethane is many times lighter than wood and can be applied to round or curved surfaces for great design flexibility. These efficiencies in weight pay off at the gas pump.
Durability that doesn't sacrifice comfort
Comfort is also a major theme within this concept RV. A polyurethane faux leather spans the interior. It is soft to the touch and available in a range of colors and textures for customization. Another plus that all road-trippers will appreciate is its easy-to-clean surface.
In the pillows, cushions and mattresses, molded, flexible polyurethane foam makes these objects both durable and comfortable. Due to the versatility of polyurethane foam chemistry, foam can be produced with a wide range of properties from ultrasoft to viscoelastic. The material is breathable and machine-washable for greater longevity. It is even treated with a spray gel that helps regulate temperature, keeping drivers and sleepers cool even on hot days and nights. The gel can be applied in various thicknesses for optimal body cooling.
A quieter, smoother ride
In addition to aesthetics and comfort, polyurethane plays a role in reducing noise and vibrations within the cabin of the camper. A microcellular polyurethane designed specifically for use in off-road settings helps keep the interior quiet and the ride smooth. It blocks noise caused by the engine and other mechanical parts as well as from the road itself. Polyurethane also helps to structurally support the chassis, making it a safer as well as a more comfortable ride.
As people everywhere continue to embrace the simple pleasures of hitting the road and reveling in the great outdoors, polyurethane innovations like these will help make the trip more enjoyable all the way around.
Related Articles